Founded in 1989 by members of the Kiwanis Club of Kuala Lumpur, the Centre has since educated more than 2000 children with Down Syndrome. The Centre premise in Taman SEA was built in 2004/2005 and currently accommodates 130 students with a teaching force of 20 persons, including 5 Therapists.
We focus on providing Early Intervention Programme (EIP) and In-house professional therapies such as, Sensory Integration Intervention, Autism Movement Therapy, RMTi (Rythmic Movement Training), & WST (Water Specific Therapy) for young children with Down Syndrome. All these programmes are provided at a heavily subsided rate to the students. For students who are from lower income families there are avenues for fees appeal. The Foundation's main stand is to ensure every child with Down Syndrome is provided with education.
These are the 3 main programmes offered in the centre:
Infant Stimulation Programme (ISP) – 2 months to 2 years old
Babies with Down Syndrome will join the Infant Stimulation Programme (ISP) when they first enroll in any of the KDSF Centres. Students in ISP is from 2 months – 24 months. ISP is a therapy-based programme solely handled by qualified Physiotherapists and Occupational Therapists. Session is conducted on a weekly basis for 45 minutes to one hour. click here to read more
Toddler Programme (TOD) – 2 to 3 years old
Toddler Programme is catered to children approximately 2 years to 3 years old. Before joining the program, children are expected to have some independence skills such as walking independently. Children attends a 2.5 hour class for 3 times a week facilitated by Special Education Teachers. click here to read more
Special Education Programme (SEP) – 4 to 6 years old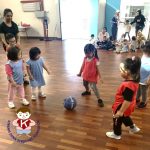 SEP caters children aged 4-6 years old. Children comes 4 times a week for 3 hours a day. The program focuses on preparing the students to be ready to attend the Special Education classes in the typical Government schools. click here to read more
Since the Movement Control Order was imposed by the Malaysian Government on 18 March 2020, teaching of students and counselling of Parents have shifted online. All our face-to-face group teaching (pre-MCO) have been suspended. When we resume one-to-one sessions for students (in August 2020) stringent SOPs will be implemented and followed.
The KDSF National Centre requires at least RM1.5 million annually to operate. The lockdown as a result of the Covid-19 pandemic has impacted the Centre tremendously. In this trying time, donations to the Centre has lessened considerably. Fundraising and adequate funding is therefore a great challenge for us. It is our sincere hope to obtain sufficient support from sponsors and donors so that we are able to continue with our cause for children with Down Syndrome for many years to come.
FIVE KDSF CENTRES NATIONWIDE
There are currently five KDSF Centres in various parts of Malaysia. Each KDSF Centre is run like a regular kindergarten with the usual kindergarten activities. KDSF is a tax-exempt, non-profit organization, managed by members of the Kiwanis Club who raise funds for the operations of their Centre.